Home /
Mechanical Properties


Kuredux® is a strong and tough material. Kuredux® exhibits greater flexural strength and abrasion resistance than some engineering polymers including Polyether ether ketone (PEEK) or Polyphenylene sulfide (PPS).
Mechanical Properties of Kuredux® Injection Molded Test Specimens
Test method
Unit
Measured value
Tensile strength
ISO 527-1,2
MPa
117
(psi)
(17,000)
Tensile elongation
ISO 527-1,2
%
13
Flexural modulus
ISO 178
GPa
7.6
(psi)
(1,100,000)
Flexural strength
ISO 178
MPa
195
(psi)
(28,000)
Charpy impact strength
ISO 179
kJ/m2
2.2
Izod impact strength
ISO 180
kJ/m2
2.9
Rockwell hardness
ISO 2039-2
(M scale)
-
111
Flexural Strength of Kuredux® vs. Other Polymers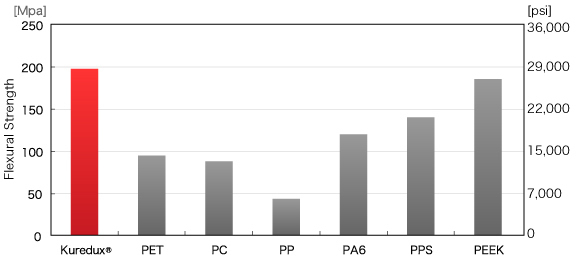 Test based on ISO 178 protocols
Abrasion Resistance of Kuredux® vs. Other Polymers (Taber Abrasion Test)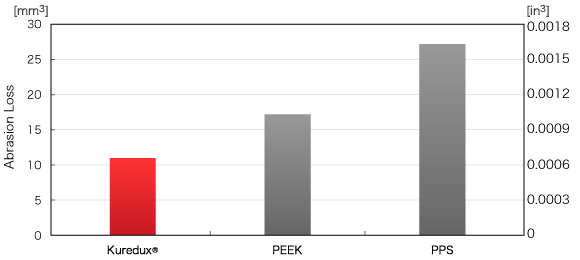 Test based on ISO 9352 protocols

Kuredux® imparts excellent barrier integrity and abuse resistance, making it suitable for flexible packages and various industrial films.
Mechanical Properties of Kuredux® Bi-axially Oriented Film
*Calculated by 0.1-1.0% elongation
Test Method
Unit
Measured value
Tensile modulus
MD
ISO 527-3
GPa
7.0*
(psi)
(1,000,000)
TD
GPa
5.5*
(psi)
(800,000)
Tensile strength
MD
MPa
380
(psi)
(55,000)
TD
MPa
250
(psi)
(36,000)
Tensile elongation
MD
%
40
TD
80
(Stretch ratio: MD5.0, TD3.5)
Mechanical Properties of Bi-axially Oriented Kuredux® Film and Other Polymer Films
*Calculated by 0.1-1.0% elongation
Film Thickness
(µm)
Test method
Tensile modulus
Tensile strength
Tensile elongation (%)
(GPa)
(psi)
(MPa)
(psi)
MD / TD
Kuredux®
18
ISO 527-3
7.0* / 5.5*
1,000,000/ 800,000
380 / 250
55,000/ 36,000
40 / 80
PET
12
3.9 / 4.0
570,000/ 580,000
230 / 240
33,000/ 35,000
100 / 90
PA6
15
1.5 / 1.0
220,000/ 150,000
206 / 290
30,000/ 42,000
105 / 65
(Stretch ratio: MD5.0, TD3.5)

Mechanical Properties of Kuredux® Monofilament
Test method
Unit
Measured value
Tensile modulus
ISO 2062
GPa
29
(psi)
(4,200,000)
Tensile strength
GPa
1.1
(psi)
(160,000)
Tensile elongation
%
20
Single-end breaking force
GPa
1.1
(psi)
(160,000)
Single-end breaking elongation
%
14
(Stretch ratio: 6.0)